Gas - Food - Concrete Nudes
August 3, 2005: From Needles we departed west on I-40 for a few miles, which was paved over 66 in this area. For the first time on this trip (day five), we were on road nobody in our party had ever covered. We had already entered the Mojave desert some time before, but without the Colorado River and the civilization of Needles, it began to truly look and feel like desert.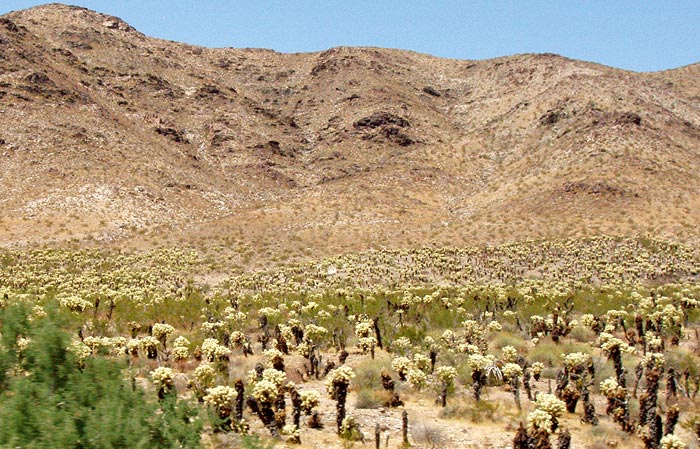 We had intended to take Rt66 at the next opportunity but were not able to do so, having been warned away by signs that informed us the road was impassable due to flood damage. Yes, floods in the Mojave desert; there has been an unusual amount of rain here the last couple years. We exited I-40 and headed north on Mountain Springs Road in order to intercept Rt66 at Goffs so that we could drive at least part of this loop. This is Goff's Butte on Mountain Springs Road.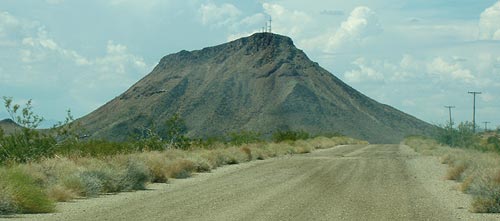 Goffs is the largest settlement along this stretch. Its practically a ghost town but this closed general store still hosts an ice machine.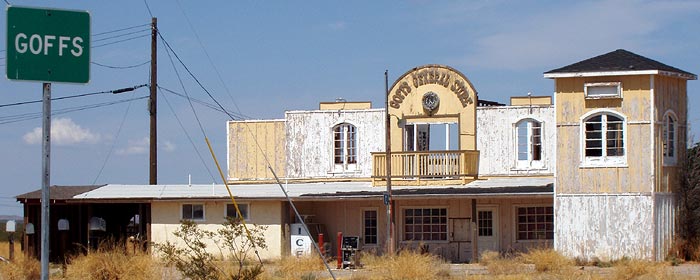 We could see some of that unseasonable rain in the mountains. This stretch of 66 is the pre-1931 alignment; it was used quite a bit even after the newer 66 was made to the south because it had a 2% grade as opposed to the newer alignment's 5% grade.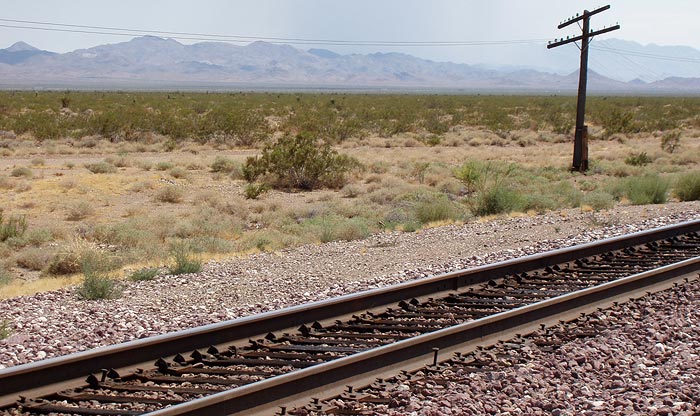 At the end of this 66 loop, where it curves back to the south to cross I-40 near Fenner, lies Naja's Food and Drink Garden, a somewhat different convenience store.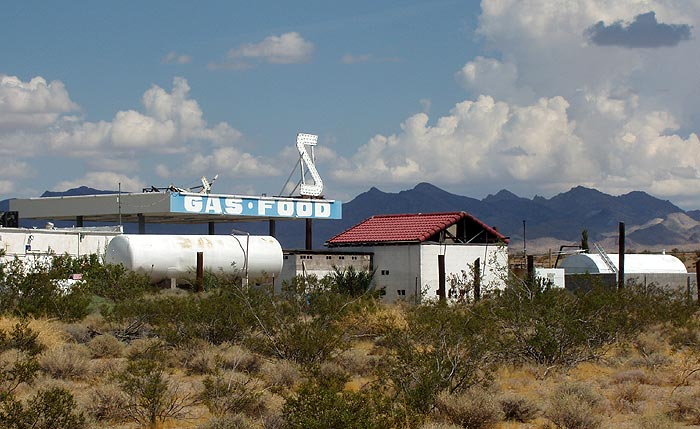 It was a bit warm inside Naja's, but the help was friendly.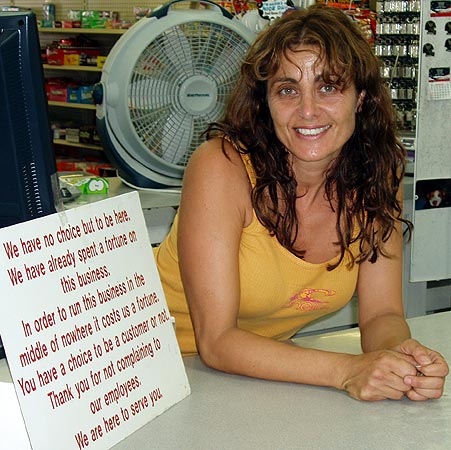 Prices are higher for many things out here; the reason given is the remoteness of the area, which is believable.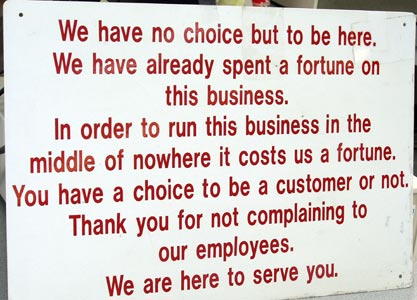 Customers dressed for the desert are seen through a wall of aquariums in the store.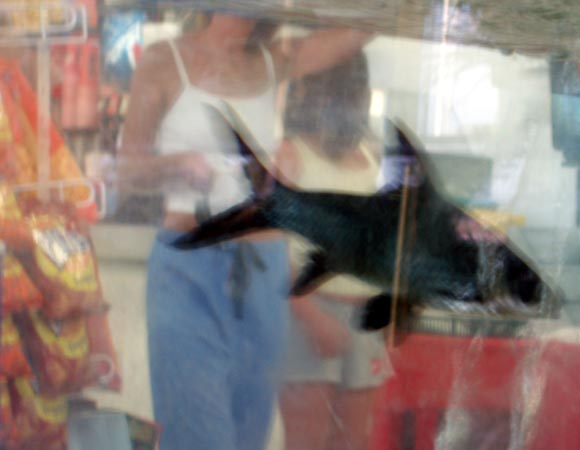 Outside, the store is ringed with statues and landscaping.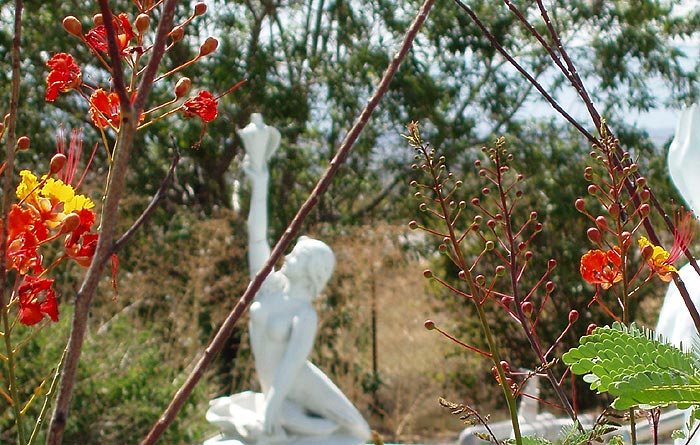 Stark white statues of naked women are not unheard of along Rt66; I had seen one in
Kingman, AZ
.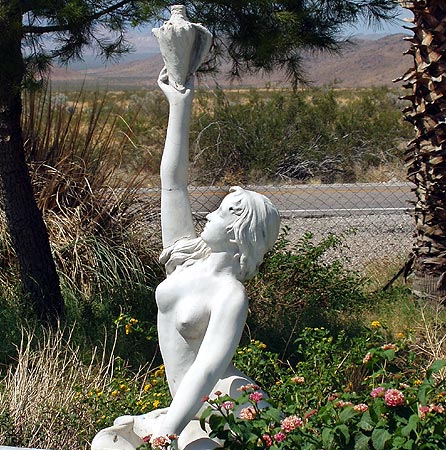 These birds were in abundance. I don't know what they are, but their shrill calls were like nothing I'd heard. I'd welcome an ID from a bird enthusiast.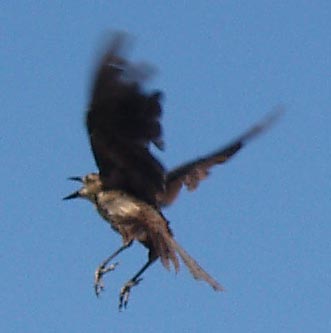 After downing a couple cold sport drinks and buying some water, we set off into the desert again.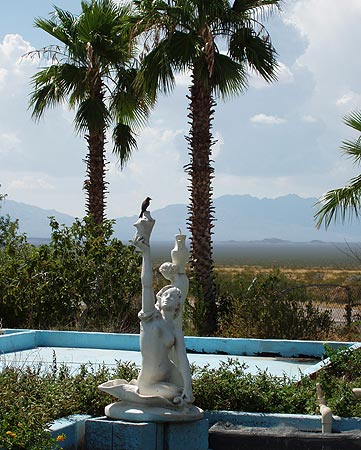 For our entire July-August 2005 Rt66/I-40 trip, see:
Joplin to Amarillo
Amarillo to Holbrook
Holbrook to Winslow
La Posada
Grand Canyon
Seligman
western AZ
From the California border onward, we stayed to Route 66:
Colorado River crossing
Needles
Needles to Fenner
Fenner to Amboy
Amboy
Amboy to Barstow
Barstow
Barstow to Victorville
Victorville - California Route 66 Museum
Victorville to Rialto
Rialto Wigwam Motel
Outer Los Angeles
Los Angeles
Santa Monica Pier
Other posts concerning California:
The Future was so Cool in 1961
Goodbye, Sam's Seafood